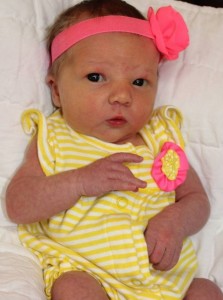 LillyAnna Grace Hoffman, six week old daughter of Luke Hoffman and Olivia Belcher, went home to be with the Lord Tuesday, May 19, 2015.
She is also survived by her brothers, Gunner Belcher and Harrison Taylor; grandparents, Rodney (Dawn) Belcher, Angie Belcher, Susie Hoffman and Nathan Hoffman; great  grandparents, Richard and Jewell Belcher and Donald and Patricia Mosteller,  Audrey Shrewsbury and Kenneth Smithson; aunt, Katelyn Belcher; uncles, Brock and Landon Hoffman; great uncle and aunts, Mike and Kim McCoy and Beany Midkiff; and many other great uncles, aunts and cousins. 

Funeral service will be 5:00 p.m. Saturday, May 23rd at  Curry Funeral Home in Alum Creek with Pastor Homer Hensley officiating.    Burial will follow at Pine Grove Cemetery.  The family will receive friends one hour prior to the service at the funeral home.