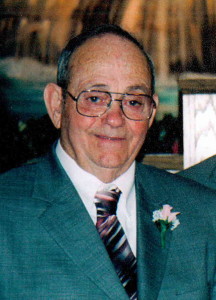 Sewell Wesley Ryan, Jr., 87,  of Sandyville, entered Heaven on Friday, March 27, 2015, surrounded by loved ones.
Born January 17, 1928,  in Nellis, he was the son of the late Sewell and Tressa Ryan.  He was preceded in death by his dear wife, Audra; loving daughter, Carolyn Parsons; and sisters, Joy Grey, Sandra Ryan and Delores Peggs.
Sewell is survived by his beloved and devoted wife, Ada; daughters, Linda Posten (Randall) and Elaine King (Kem); and Ada's children, Jeff and Dena, who are very dear to Sewell; and brother, James Ryan (Sharon).  He was the best PaPa ever to his five grandchildren, fifteen great grandchildren and loved by his many nieces and nephews.
He retired from Kaiser Aluminum in Ravenswood.  A brilliant and humble man who saw the good in everyone and never a bad word uttered through his lips.  This avid adventurous man, full of love and laughter, was a joy to be around.  He loved trips to his cabin in Randolph Co. with his wife, neighbors and family.  Countless stories with his friends have been shared time and again and enjoyed just as much the last time as the first time.  A wonderful man who loved hunting and fishing, a man who loved nature and what it had to offer, a man fair, honest and faithful.  Faithful to his church, his fellow man and above all to God.  Sewell (Jr) was a gentleman, as well as a gentle man, and if you knew him you have an idea of how broken our hearts are.  Sewell clearly found joy in giving and that makes such a difference in this world.  He loved going to the Ponderosa in Ripley and they loved him.  Father, husband and friend, we love who you are and what you mean to us and for us it is forever and on-going.
There will be a gathering of family and friends from 6-8 pm  Monday,  March 30 at the Curry Funeral Home in Alum Creek, West Virginia.  The funeral service will be held 2 pm Tuesday, March 31  at  Sandyville Church of Christ, 7796 Parkersburg Road, Sandyville, WV  with Minister Jeff Dorton officiating.  Burial will follow at  Orchard Hills Memory Gardens, Yawkey.
The family wishes to thank our church family, who has been very dear to us;  the many nurses and doctors who cared for him down through the years; a special thank you to Cathy Easter from Hospice and all those who came all hours relentless in their help, the family is grateful.