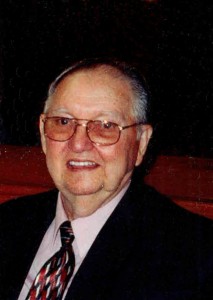 Junior Freeman Chandler, 85, of Yawkey in Lincoln County, went home to be with the Lord on Monday, September 22, 2014, after a long illness. He was born December 16, 1928 in Saint Albans to Freeman and Viola Chandler.  He was a member of the Knights of Pythias Lodge at Griffithsville.  He was retired from Union Carbide Construction Company at Institute as a supervisor with 40 years of service.
Junior became a born-again Christian when he accepted the Lord Jesus Christ as his personal Saviour when he was 18 years of age.  He was later ordained as a deacon and faithfully served in that position at Joe's Creek Missionary Baptist Church at Tango for more than 57 years.  He loved his church and was a faithful member.
On July 8, 1947,  he married the love of his life and they recently celebrated their 67th wedding anniversary.  He was preceded in death by his parents, Freeman and Viola Chandler; sisters: Norma and Agnes; half-sisters: Ruth, Edna, Thelma and Dorothy; brother: Denver Chandler; half-brother: Donald Mosteller; sons-in-law: Harold Bennett and Richard Bowles.
Junior is survived by his loving wife, Anna Smith Chandler; Daughters: Dorean Bennett, Ovieda, FL; Janet (Dwight) McClure, Griffithsville; Melinda Bowles, Yawkey; Patty (Lannie) Kidd, Alum Creek; Son: Jackie Chandler, Yawkey; half-sister: Mary Florence Mosteller; half-brothers: Arthur and Roger Mosteller; six grandchildren and eight great-grandchildren; nieces, nephews, cousins and a host of friends.
Funeral service will be 1:00pm Thursday, September 25, 2014 at Joe's Creek Missionary Baptist Church, Tango, with Rev. Oshel Bell and Rev. Robert McCallister officiating.  Burial will follow at Orchard Hill Memory Garden, Yawkey.  Visitation will be Wednesday, September 24, 2014, from 6:00 – 8:00pm at Curry Funeral Home, 2097 Childress Road, Alum Creek.