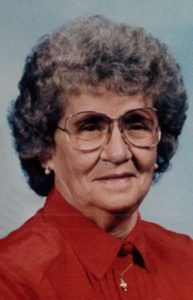 Carrie Faye Davidson, 93, of Alum Creek went home to be with the Lord Thursday, September 22, 2016 at Clarks Christian Care Home, East Bank, WV.
She was preceded in death by her husband, John D. Davidson and grandson, Jason Davidson.
Faye was a homemaker and a member of the Alum Creek Church of Christ.
She is survived by sons, Joe Owen, David Davidson and James (Shirley) Davidson; 8 grandchildren, several great grandchildren and several nieces and nephews.
Service will be 2:00 p.m. Monday, September 26, 2016 at Curry Funeral Home in Alum Creek with Pastor Butch Leadman and Minister Richard Runyan officiating.  Burial will follow at Owen-Davidson Family Cemetery, Alum Creek.   The family will receive friends 1 hour prior to the service at the funeral home.
In lieu of flowers, the family requests memorial donations to the Alzheimer's Association, West Virginia Chapter, 1601  2nd Avenue, Charleston, WV  25387 or HospiceCare, 1606 Kanawha Blvd. W., Charleston, WV  25387.