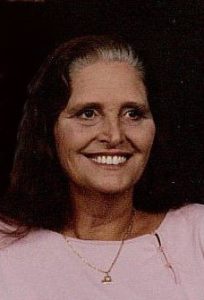 Darrell Lynn  Tudor "Sis", 60, of Sod went home Friday, July 22, 2016 at Hubbard Hospice West,  South Charleston.
She was a member of Joes Creek Baptist Church.
Darrell was predeceased by her parents, Jimmie and Phyllis McKinney; and nephew, Michael Sebastian.
She is survived by her husband, David; sister, Shelly (Charlie) Beam; brother, Mike (Amy) McKinney; nephews,  Jimmie, Jamie, Anthony, Zack, Josh and Lakin; and nieces, Heather, Candi, Lynnzie and Kinsley.
Service will be 3:00 p.m. Tuesday, July 26, 2016 at Curry Funeral Home in Alum Creek with Pastor Bruce Keeling officiating.  Burial will follow at Pauley Cemetery, Joes Creek.  The family will receive friends 1 hour prior to the service at the funeral home.