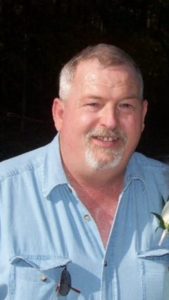 James Carl Butler, Jr., 63, Sumerco, went home to be with the Lord his Savior, on Sunday, December 10, 2017. He was born in Charleston, WV, on February 28, 1954, to the late James Carl Butler, Sr., and Wilma Lou McDonald Wiley Butler.
He was a graduate of Charleston High School and a former water treatment opertor at Tornado PSD and Lincoln PSD. He was a member of Olive Baptist Church in Julian, WV. He was preceded in death by his sisters, Barbara Wiley, Mary Stover, Thelma James, Norma James, Kyletta Shaffer and Cathy Angel.
James is survived by his loving wife of 35 years, Martha Faye Dunlap Butler, children, Travis (Allison) Butler, Candice (Jeffrey) Baldwin, James (Leanna) Butler, Cory (Courtney) Butler, Crystal Young, and Shawna Dodrill, brother, Charles (Jane) Wiley; sisters, Margaret (Rick) Mason, Yvonne (Johnny) Gunnoe and grandchildren, Ashley, Travis Jr., Ariel, Makayla, Cade, Emily, and Brinklee.
Service will be 2:00pm Thursday, December 14, 2017 at Curry Funeral Home with Pastor Jackie Miller officiating. Burial will follow at Old Pine Grove Cemetery. Family and friends will gather one hour prior to the service.
In lieu of flowers please make donations toward the funeral service.