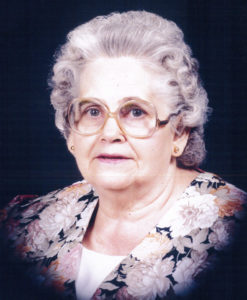 Barbara Ann Ruby, 86, of Sod, went home to be with the Lord Monday, October 9, 2017 at Lincoln Nursing & Rehabilitation Center.
She was a 1947 graduate of Duval High School, and a member of Elizabeth Baptist Church.
She was preceded in death by her parents, Sim Belcher and Celeste Belcher Dunlap, husband, Carter Ruby, son, Robert Ruby, daughter, Carol Newcomer, brothers, James, Boyd, Don, Billy, and Jessie, sisters, Wilma and Helen.
She is survived by her two sons, Frank Ruby, of Fayetteville, NC, and Richard (Lynn) Ruby of Sod, daughter, Anita (Francis) Holton, of Salt Rock, one sister Doris (Roger) Escue, five grandchildren, Christi (Rene), Denise (John), Steven (Chelsea), Mark, and Celeste (Greg), three great-grandsons, Andrew, Jaydin, and Robert, one great-great-granddaughter, Jaiyda and a host of nieces, nephews and friends.
Service will be 11:00 a.m. Thursday, October 12th at Curry Funeral Home, 2097 Childress Road, Alum Creek, WV, with Pastor Homer Hensley officiating.  Burial will follow at Lively Cemetery, Sod.  Friends will gather Wednesday, 6:00 – 8:00 p.m. at the funeral home.
The family would like to give a special thank you to the staff at Lincoln County Nursing & Rehab for their wonderful care of Mom.