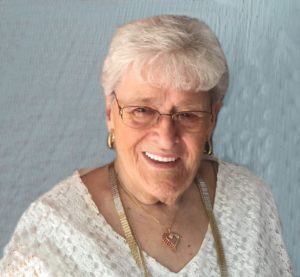 Opal Ruby (Vickers) Clark, 82, of Alkol went home to be with the Lord on Tuesday, August 1, 2017.
She was a child of God for over 40 years and a member of the Left Fork Baptist Church. Opal was a beloved wife, mother, grandmother and great grandmother. Next to God, she loved her family more than anything.
Opal was born on September 6, 1934 to the late Glen and Arnie Vickers. She was preceded in death by her sister, Bonnie Price; brothers, Ronnie and Donnie Vickers; daughter-in-law, Judy Clark; and great granddaughter, Abigayle Fleshman.
She is survived by her beloved husband of 67 years, Victor; sons, Rocky (Glenda) Clark and Tony (Wilma) Clark of Alkol; daughter, Shirley (Bob) Connolly of Turtle Creek; grandchildren, Carol Lee Miller, Wendy Perschau, Dody (Nathan) Bragg and Wendy (Joey) Boardman of Alkol, Clint (Sheila) Clark of Columbus, OH, Angela (Brent) Fleshman of Culloden, Amanda Clark of St. Albans and Jordan (Laura) Clark of South Charleston; eleven great grandchildren, Kyle, Katie, Danielle, Blake, Ethan, Emma, Joseph, Brielle, Dylann, Avery and Gracen. Opal also leaves brother, Earl (Geneva) Vickers of South Carolina, Denver Vickers of Alkol and many nieces, nephews and dear friends.
Service will be 1:00 p.m. Saturday, August 5, 2017 at the Left Fork Baptist Church at Alkol, with Pastors Randall Kinder and Roger Reed officiating. Burial will follow at the Clark Family Cemetery, Alkol. The family will receive friends from 6 to 8 p.m. Friday at Curry funeral home.