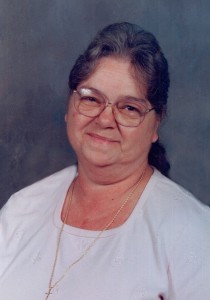 Juanita Evelyn Spears, 66, of Nellis went home to be with the Lord Wednesday, February 29, 2012 at Hubbard Hospice House after a long illness.
She was preceded in death by her husband, Dale Spears, son Dewayne Spears, mother, Juanita Tye and brother, Mitt Tye.
She attended Rumble Community Baptist Church and for many years she served as a in-home care -giver.
Juanita is survived by her daughters Gail Shelton and Bethel Adkins both of Foster, Annette (Kit) Richardson of Nellis, son Lee (Dawn) Spears of Elkview, grandchildren Anthony Hager, Tia Shelton, Leah, Victoria, and Isaac Messer, Channing Richardson, great grandchildren Ali and Aleeah Simms, and Bryum Richardson, sisters Christine Crews of Hawaii and Jackie Means of Charleston.
Funeral service will be 2:00 pm Saturday, March 3, 2012 at Curry Funeral Home, 2097 Childress Road, Alum Creek with Pastor Richard Harrold officiating. Burial will follow in Orchard Hills Memory Gardens, Yawkey. Family and friends will gather Friday from 6 to 8 pm at the funeral home.