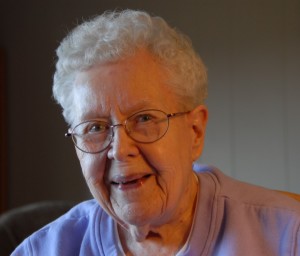 Elizabeth Tiffner,  97, formerly of Charleston, WV,  was currently living at Brookdale Assisted Living in Clarksville, TN went into the presence of her Lord and Savior Jesus Christ on Sunday, May 22, 2016.
She was blessed with a long and fruitful life of service to the Lord Jesus and serving others.  Elizabeth was born January 5, 1919 in Wytheville, VA and moved to West Virginia in her twenties with her mother Edith Crook.
She was a long time member of the Bible Center Church, starting when it was the City Bible Center Church located on Broad St. in Charleston.    She was an accomplished quilter with some of her work displayed in the State Capital Cultural Center. Elizabeth moved to Alaska in 2003 with her son and family and lived there until 2013.  She then relocated in Clarksville, TN.  Elizabeth's joyful spirit and love of the Lord influenced everyone who met her all the way through her life.
She was predeceased by her mother, Edith Crook; husband, Lewis Tiffner; sons, Jerry and Howard Hamilton; daughter, Twyla Sue Hudkins; and grandson, Benjamin Tiffner.
Elizabeth is survived by her son, Timothy (Judy) Tiffner; daughter, Janet (Alan) Beckett; 17 grandchildren and 21 great grandchildren.
Service will be 1:00 p.m. Friday, May 27, at Curry Funeral Home in Alum Creek with her son Pastor Tim Tiffner officiating. Interment will follow at Tyler Mountain Memory Gardens.  The family will receive friends 1 hour prior to the service.
We have been blessed abundantly with a mom, grandmother and friend that loved God and delighted in serving others for God's glory.  She is deeply missed, but we have the calm assurance that we will see her again around the Throne of God.