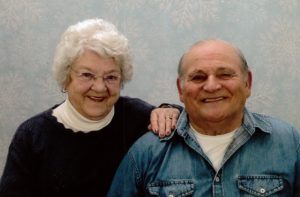 Our loss is Heaven's gain, Donald Ray Dunlap, 87, of McCorkle, left this world in the arms of angels Friday, January 20, 2017 at home.
He was a member of McCorkle Freewill Baptist Church. Donald was a retired coal miner from Y & O Coal Company and a proud member of the UMWA. He also worked several years with the Laborers Local. Donald enjoyed hunting, camping and traveling with his family.
He was preceded in death by his parents, Willard and Omazell Dunlap; siblings, Aubrey, Dennis, Ilene, Marie and Nellie Jean; and infant daughter, Kimberly A.
He is survived by his wife of 66 years, Betty; children, David Dunlap, Meddie Ray "Jigs" (Patty) Dunlap, Donald "Coco" Nelson Dunlap, Charlene (Jacky) Dunlap, Peggy (Jerry) Marker and Russell Dunlap; sister, Neva Bell Stump; grandchildren, Debbie (John) Estep, Donna Dunlap, Donald Dunlap, Kim (Chad) Board, Kristy (Randy) Wright, Kari (Barry) Roberts, Donny (Melody) Dunlap, Chris Dunlap, Paula (Brett) Matthews, Jason (Lorie) Dunlap, Jerrick (Brooke) Marker, Heather (Chad) Antill and Justin Dunlap; great grandchildren, Tiffany, Tim, John, Derick, Ericka, Allie, Patrick, Cecil, Dorothy, Kelley, Caleb, Connor, Katelyn, Payton, Reece, Lakynn, Brayden, Braxton, Emily, Joshua, Koree, Cody, Jerrick, Rayleigh, Addison and James; great great grandchildren, Sophia, Rowan, Berkley and Delaney.
Service will be 2:00 p.m. Monday, January 23, 2017 at Curry Funeral Home in Alum Creek with Pastors Ronnie Scott and Roe Smith officiating. Burial will follow at Pine Grove Cemetery. The family will receive friends 1 hour prior to the service at the funeral home.
The family would like to thank and recognize Dr. Scott Smith and the staff at Alum Creek Medical Center for all their help. Also home health care nurses, April and Brian.