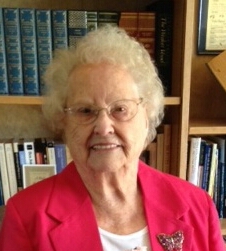 Loretta June Dove Cardwell of South Charleston, West Virginia, and Springfield, Ohio, passed away on Sunday, July 24, 2016, at Forest Glen Health Campus in Springfield.  She was preceded in death by her husband of almost 65 years, James Cardwell, Jr.; parents, Clyde Sherwood and Lura Martha Bridges Dove; brothers, Jesse, Dick, Harold, and Clyde Sherwood Dove; sister, Mary Beatrice Dove Brady; and grandson, Samuel Bridges Harshbarger.
June was born in Lerona, Mercer County, West Virginia, on January 29, 1923; graduated from Princeton High School; and worked for a brief time at the Maidenform Brassiere Company in Princeton.  She was a Kanawha County kindergarten aide at Ruthlawn Elementary for almost 15 years.
June was a member of Davis Creek Church of the Nazarene and First Church of the Nazarene of South Charleston.  She was a recipient of the Distinguished Service Award; served on the church board and the missionary council; was a Sunday school teacher, a member of MiSMA, and an active member of Women's Ministries.  June served God, her family, and her community on a daily basis.  She lived according to her convictions and was faithful.
June is survived by daughters Connie Snodgrass of Leesburg, Virginia; Beverly DeBord of Springfield, Ohio; Karen Teel and husband Brooks of South Charleston; Nancy Knurek and husband Chuck of South Charleston; Cathy McCue and husband David of Plano, Texas; and son David Cardwell and wife Laura of Abilene, Texas.  In addition, she is survived by grandchildren John Snodgrass, Elizabeth Snodgrass, Rodgers Harshbarger and wife Kate, Bryan Knurek and wife Holly, Charles DeBord and wife Amanda, Melissa Bucklew and husband Jacob, Allison Taylor, Katie Vaden and husband Ray, Chris Cardwell and wife Jami, and John Michael Harshbarger.  June and Jim were blessed with thirteen great grandchildren, namely Kennedy Knurek, Lucy Harshbarger, Katharine Snodgrass, Carlyn Vaden, Jillian Knurek, Samuel Harshbarger, Dominic Bucklew, McKenna Vaden, Joshua Vaden, Emmett Cardwell, Mia June Bucklew, Zoe Vaden, and Sawyer Cardwell.  She is also survived by her sister Ella Mae Wagner of Burlington, North Carolina; three sisters-in-law; several nieces and nephews; and a host of friends in West Virginia and Ohio.
The family extends its sincere appreciation to the staffs of SweetBriar Assisted Living of Dunbar, West Virginia, Forest Glen, and Kindred Hospice for their kind and compassionate care.
A service to honor June's memory will be held on Wednesday, August 3, 2016, at Curry Funeral Home, Alum Creek, with The Reverend Kent Estep officiating.  Visitation will begin at 10:30 with the service immediately following at noon.  A service of interment will be held at the Graceland Memorial Park mausoleum.
Contributions in her memory may be made to the American Macular Degeneration Foundation.  June successfully battled that disease for decades, never losing sight of her life's real purpose.