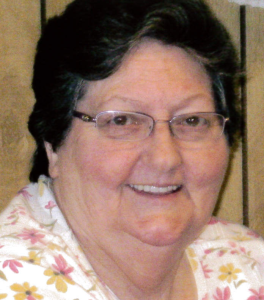 Shirley Young
II Cor. 5:8, We are confident, I say, and willing rather to be absent from the body, and to be present with the Lord.
God sent his best angel for our mommy Friday, February 5, 2016.  Shirley Young, 76,  of Alum Creek,  was born number 10 out of fourteen children to the late Allen and Daina Brookman Ball on September 1, 1939 in Bozoo, WV.
Shirley was a Christian and a member of the Eden Baptist Church in Griffithsville, WV.
She was preceded in death by her siblings, Paul, Tish, Jack, Bus, Bill, Lee, Dave, Doug, Mary, Betty and Monkie.
Shirley is survived by her husband of 50 years, Bob, whom she married on November 12, 1965.  Together they had two daughters, Debbie (Michael) Quintrell of Yawkey and Lisa (Joel) Pauley of Alum Creek.   She is also survived by sisters, Ethel Jennings of Houston, TX and Louise Ballard of Lindside, WV; and a host of nieces, nephews and friends
Service will be 2:00 p.m. Wednesday, February 10, at Curry Funeral Home, Alum Creek, with Pastor Rexal Cooper and Assistant Pastor Jeff Black officiating.  Burial will follow at Forks of Coal Memorial Park.   The family will receive friends 2 hours prior to the service at the funeral home.
The family would like to extend special thanks to Hospice and all of the wonderful people who have supported the family in any way, especially to Suewanee Pauley for her love and support that means more to our hearts than words can express.