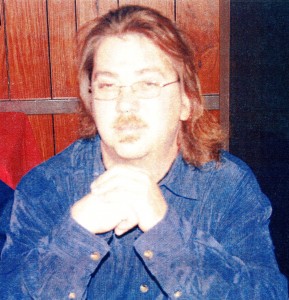 Scott Loftis
Jeffrey Scott Loftis, 45, of Sod, died Saturday, October 18, 2014 at home.  He was the beloved son of Jack and Cornia (Williams) Loftis, who preceded him in death.
He was a 1987 graduate of Duval High School and retired from the Division of Highways, Yawkey Garage.   As a teenager, he was given the nickname "Sid."  His love of pro-wrestling was unequaled, along with his belief that it was not staged.  Scott had collected comic books from a young age. He was also a big fan of Dale Earnhardt.    He loved Mountaineer football and had planned to watch the game and would have been proud of their win over Baylor.
He is survived by his cousins, Sande Egnor, who has faithfully watched over him since the passing of his mother, and  Le Ann Bonnett, who along with Sande,  shared custody of him for the past few years; stepdad, Wayne Tribble, who went above and beyond the call of duty where Scott was concerned; aunts and uncles, Carl and Ann Egnor, Lyle and Regina Loftis, and Trudy and Gerald Newhouse, who were always available for Scott; additional aunts, uncles, a multitude of cousins and one special little cousin, Trevor Egnor.
Service will be 3:00 pm Tuesday, October 21, at Curry Funeral Home, 2097 Childress Road, Alum Creek with Pastors Frank Chapman and Billy Silva officiating.  Scott will be cremated and interred in Lively Cemetery, Sod, with his parents at a later date.   The family will receive friends one hour prior to the service.
In lieu of flowers and to honor Scott and his love of animals in need, the family requests donations to an animal shelter or animal rescue of your choice.
The family wishes to thank Dr. Patrick Stone and the staff at several different units at CAMC Memorial for the care he received during his hospitalizations this past year.