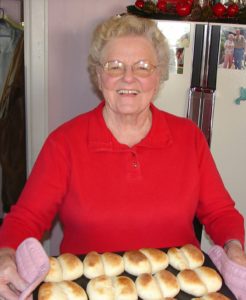 Mildred Annette Haynes, age 90, of St. Albans, WV, entered into heaven on February 15, 2017 after a short illness.
Mildred was born in Georgia, raised in Clendenin, WV and Hickory, NC.  Mildred supported the war effort in a defence plant in NC, moved back to WV and enjoyed decades of work as office support for Sears Roebuck and then raised a family.
Welcoming her home were her parents, four brothers and her husband, H.E. (Gene).  Survived by her son, Michael (Sherry) & grandsons, Brandon and Kristopher; nieces, Carol (Alex) Woodland & Barbara (Mitch) Vickers of VA.
Mildred was gifted with a personality that had never met a stranger.  She loved to cook and feed her family, beloved neighbors and proudly helped with church meals when able.
A celebration of Mildred's life will be held at 1pm on Saturday, February 25, at her church, Highlawn Baptist of St. Albans with Pastor Matt Friend officiating. The family will receive friends two hours prior.
Memorial donations may be made to Highlawn Baptist Church, 2304 Jefferson Ave.,St. Albans, WV in Mildred's name.