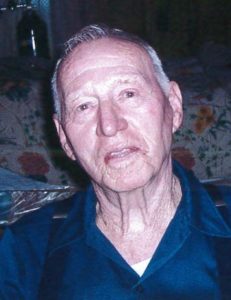 Cleo Fredrick Abbott, 92 and 10 months of age, of Alkol, went to his Heavenly home Friday, December 2, 2016, after a long illness.  He retired from Libby Owens Ford Glass.  Cleo was a faithful member of Sycamore Grove Missionary Baptist Church for many years.
He was preceded in death by his daughter, Joyce Miller;  parents, Fred and Lottie Vickers Abbott; brothers, Charlie, Herman and Homer Carl; sisters, Gladys Mason, Irene Abbott and Iola Bostic.
Cleo is survived by his wife of 68 years, Maggie; sons, Freddie, Stanley (Nona), and Joe Abbott; daughter, Kathleen (Roger) McCallister; 11 grandchildren; several great-grandchilddren; and sisters, Emma Keffer and Eloise (Arthur) Thompson.
Service will be 1:00 p.m. Monday, December 5, at Curry Funeral Home, Alum Creek with Pastors Darrell Searls and Gene Pauley officiating.  Burial will follow at Stone Cemetery, Alkol.  The family will receive friends from 4 to 6 p.m. Sunday at the funeral home.