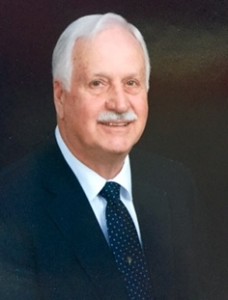 Rev. Basil Roland Hudson, 74, of Scott Depot went home to be with his Lord  and Savior on Tuesday, November 24, 2015 at CAMC Teays Valley.
Basil announced his call to the ministry in 1972 and was ordained as a Baptist Minister.  He contiued his education at Moody Bible Institute.  He served as pastor of  Olive Baptist Church, Sycamore Grove Baptist Church,  Twenty-sixth Street Baptist Church in Huntington, and the Leon Baptist Church.
He was currently a member of Mt. Vernon Baptist Church where he served as Sunday School Teacher; and also continued to hold revivals, visiting the sick, elderly and anyone in need.
Basil enjoyed golfing and landscaping.  He loved spending time with the grandchildren and attending their games and activities.
He is preceded in death by his parents, Clinton and Eufa Hudson and brother, Carter Hudson.
Basil is survived by his wife of 54 years, Brenda; daughter, Teresa Gillmor; son, Brian (Pam) Hudson; grandchildren, Zoe Gillmor, Matthew, Lauren and Emily Hudson; brothers, Paul (Doris) Hudson and David (Mary) Hudson; sisters, Esther (Nile) Long, Annabelle (Gene) Monk, Naomi McCracken, Rachel (Chuck) Kinder and Sharon McClure; and a host of friends that God has blessed him with through 43 years of ministry.
Service will be 2:00 p.m. Saturday, November 28th, at Mt. Vernon Baptist Church, 2150 Mt. Vernon Road, Hurricane with Pastor Ron McClung officiating.  Entombment will follow at Valley View Memorial Park, Hurricane.  The family will receive friends from 11:00 a.m. – 2:00 p.m. prior to the service at the church.