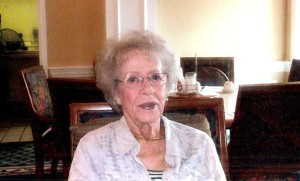 Lavern McCormick Bonhag
Beulah Lavern McCormick Bonhag, 86, of Huntington passed Wednesday, November 19, 2014 at Cabell Huntington Hospital, Huntington.
She was a contract specialist for the National Institute of Health.
Lavern  was preceded in death by  her husband, George Bonhag; son, Frankie Bonhag; brothers, Dorsel, Vondon, Bernie, and Rex McCormick; and sisters, Myrtle Banks and Revel Smith.
She is survived by brothers, Herbert (Sharyn) McCormick; sisters, Edna Baker, Glenna Anderson and Anna Lois Hodges; a multitude of nieces and nephews.   A very special thank you to her nephew, Gary Hodges and his wife, Brenda, for their special loving care for Lavern.
Funeral service will be 2:00 PM Monday, November 24, at Curry Funeral Home, 2097 Childress Road, Alum Creek with Pastor Oshel Bell officiating.  Burial will follow at Midkiff Cemetery, Sumerco.  The family will receive friends one hour prior to the service.