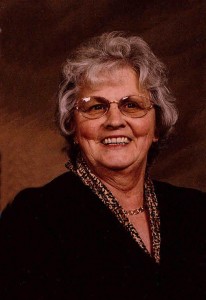 Lorena "Kay" Gillispie, 81 of Dunbar died peacefully at home Friday, July 3, 2015 after  a long illness.
She was preceded in death by her parents, Rev. Johnny and Maggie Wickline;  husband, Charles H. Gillispie;  companion, Paul Pauley;  sons, Robert Larry Baxter and Charles Faron Gillispie; brothers, Harry, Paul, Worthy, Harold, Ralph, James and Edwin Wickline; and sister, Lena Hackney.
Kay was a member of Hopewell Baptist Church and she was retired from the Kmart located at Patrick Street.
She is survived by her daughters,  Anna Spencer and Teresa Barnhart;  son, Nathan Gillispie; brother, Granville "JR" Wickline;  8 grandchildren and 8 great grandchildren.
Funeral service will be 1:00 pm Monday, July 6, at Curry Funeral Home in Alum Creek with Rev. Eldon Fitzwater officiating.  Entombment will follow at Graceland Memorial Park Mausoleum in South Charleston.  The family will receive friends from 11:00 am – 1pm prior to the service.
The family would like to express a special thanks to Thomas Home Health Services; Dennesse Miller, RN and Jerry Buzzard; also to caregivers, Ericka Moss, Kierra and Branigan Moss, Ronnie Fields, Jr. and Mary Jordan.