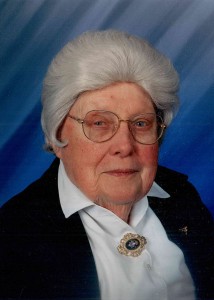 Artimitia "Artie" Smith Fowler went to Heaven on September 13, 2014 to meet with her Lord and her family and friends.  She passed away at the Oak Ridge Center where she had called her home for five years.  She is survived by her son, Carlisle (Janet) Smith, and grandchildren, Stephen and Terri Smith, all of St. Albans.  One great granddaughter, Rachel Smith of Marietta, GA., and her adopted children Ray and Jeanette Brammer, also of St. Albans.  She is survived by one brother, Maxfield Smith (Bea) of Spring Hill, and several nieces and nephews.
Preceding her in passing were her husband, Clarence "Mack" Fowler, parents, Clarence and Lula Smith, her sisters Ruth, Otie, Katherine, Ann, and Alpha, brothers Arnold, Basil, Bernard, and Frazier "Jake".
Artie was born in Tornado on Februrary 23, 1918 on her mother's birthday.  She worked at the Tornado General Store for more than twenty years.  She taught Sunday School at Pleasant Hill church for many years.  She then went to work with her husband, selling and delivering wholesale meats.  She and Mack retired and enjoyed traveling to Canada and several other places.  She kept her Bible on the table in front of her at Oak Ridge and read it every day.  She said that was her way of witnessing to the staff and visitors at Oak Ridge.
The visitation will be from 6:00 to 8:00 on Monday the 15th, and the funeral will be at 11:00 on Tuesday the 16th at her home church, Bethany Baptist, at 2504 Grant Avenue in St. Albans.  The services will be conducted by Pastor Tim Campbell and Pastor Butch Leadman.  Burial will be at the Pleasant Hill Church Cemetery.