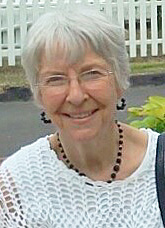 Joy Vernalaine Roberts, 81, of Sneads Ferry, N.C., formerly of Yawkey, died Sunday, December 10, 2017, at her home, with her children by her side.
Joy was the daughter of the late Aubrey and Lena (Lovejoy) Ryan. She retired from WV Housing Development Fund as an Operations Manager / Underwriter in Loan Originations. She was admired and respected by her colleagues and was sought by many underwriting agencies throughout the country, but chose her West Virginia home and family over career opportunities. Joy was a member of the Forks of Coal Missionary Baptist Church and the Kanawha Valley Decorative Artists. She loved her homemaking role and had many talents, but decorative painting was her passion and gifted many of her works of art.
In addition to her parents, she was preceded in death by her husband of 65 years, Kyle Roberts; sister, Emma (Ryan) Chapman; and dear friends, Oneta (Messinger) Pack and Pauline Rymer.
Survivors include one son, Kyle Allen Roberts, and one daughter, Kylena Roberts, both of Holly Ridge, N.C.; one grandson, Jason Roberts; four great – grandchildren, Josie Roberts, Elijah Roberts, Sophie Glass and Tatum Roberts; one great – great – grandchild, Ayla Roberts; one sister, Peggy (Charles) Kuhl; and loving caregivers, Vanessa Jenkins and Maureen Thompson.
She missed West Virginia, family, friends and church family immensely, and wanted to return home.
On Saturday, December 16, at Forks Coal Missionary Baptist Church, Alum Creek, family will receive friends between 11 a.m. and noon, and the funeral will immediately follow. Burial will be at a later date.
In lieu of flowers, donations maybe made to Lower Cape Fear Hospice, 1414 Physicians Drive, Wilmington, NC 28401.