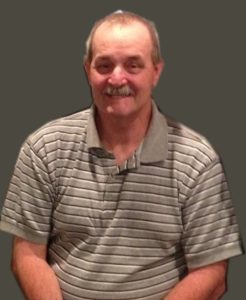 David Paul "Bump" Spurlock, 64, of Griffithsville, entered into Glory peacefully from our hands to His at Hubbard Hospice House West, South Charleston on Sunday, August 28, 2016.
He was preceded in death by grandson: Asher Paul Spurlock, and parents: Gladys Marie & Kenner Paul Spurlock.
He often attended Yawkey Methodist church when he was able.  He served in the U.S. Air Force, and was a plant operations specialist 35 years for FMC, Olin then Clearon Chemical Companies.
David was an avid sports fanatic who loved playing, coaching and managing basketball teams from youth teams up thru semi-pro.  He was a 1969 graduate of Duval High School where he lettered in football and basketball and attended WV Tech, Montgomery.   He loved boating and fishing with his son and grandsons.  David was always found trying to help others in any way and would routinely put others' needs before his own without a second thought.
He is survived by his son and daughter-in-law/caregiver, Jordan (Mindy) Spurlock, South Charleston, with whom he had made his home this past year.  Also survived by grandsons: Jakob Whitlock, Aaron Spurlock and their younger brother and sister; brother: Jeffrey Kern Spurlock, and Cindy Lowery a special friend who loved and cared for him the past several years and also a niece and two nephews and a host of lifetime friends made thru his involvement with athletics.
Services will be 11:00am, Thursday, September 1, 2016, at Curry Funeral Home, Alum Creek, with Pastors Butch Loftis and Frank Chapman officiating.  Burial will follow at Orchard Hills Memory Gardens, Yawkey.  Visitation will be from 6:00 – 8:00pm Wednesday, August 31, 2016 at the funeral home.
A special thanks to Terri Lovejoy for helping Mindy with David's care the past year and also to the staff at Hospice House West for their tender care.