Carolyn Sue Brogan, 75, of Sod went home to the Lord Friday, February 9, 2018 at Hubbard Hospice House West in South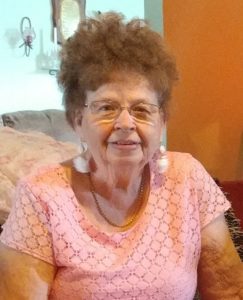 Charleston.
She was an active member of McCorkle Freewill Baptist Church for many years. She was owner of Sue's Catering and Dairy Delight Restaurant in Alum Creek and also worked as a cook at Midway Elementary School.
Sue is survived by her husband of 56 years, Virgil; sons, Tim (Regina) of Sod and Mark (Jill) of Weston; grandsons, Jacob (Caitlin), Colby and Isaac Brogan; great granddaughter, Emery Brogan; and brothers, David (Wanda), Robert (Libby) and Chuck (Carol) Smith; and sisters, Annette Mitchell, Roberta Smith (Jim) and Dawnetta (Greg) Cook.
Service will be 1:00 p.m. Tuesday, February 13, 2018 at McCorkle Freewill Baptist Church at Sod with Pastor Isaiah Hatfield officiating. Burial will follow at Lively Cemetery, Sod.
The family will receive friends Monday, February 12, from 6 to 8 p.m. at Curry Funeral Home in Alum Creek.