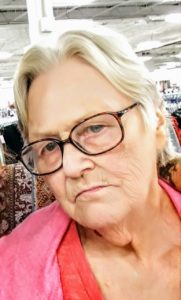 Patricia Carol Nicholas Porter, 78, of Huntington, formerly of Charleston, went home Sunday, January 28, 2018 at St. Mary's Hospital in Huntington.
She retired from Union Carbide.
Patricia was preceded in death by her husbands, Kermit V. Nicholas and Bobby Porter; daughter, Karla Lea Nunn; and son, Edward Nicholas.
She is survived by her daughter, Little Star Vanscyoc; half-brother, Bernard Westfall, Jr.; grandchildren, Ricky E. Davis, Jr., Dakota Von Nicholas, Cameron Nunn and Matthew Nunn; great grandchildren, Joshua Eric Davis, Sara Breann Davis and Emily Brea Davis.
Service will be 2:00 p.m. Saturday, February 3, 2018 at Curry Funeral Home in Alum Creek with Pastor Frank Chapman officiating. Burial will follow at Orchard Hills Memory Gardens in Yawkey. The family will receive friends one hour prior to the service at the funeral home.