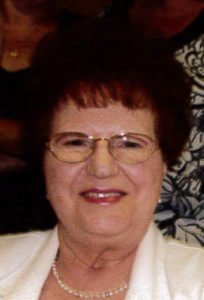 Judith A. Loftis Pauley, 83, of Yawkey went to be with the Lord Thursday, October 5, 2017 at home with her family by her side.
She was a retired supervisor at Kanawha Janitorial Service.
Judith was a former member of Joes Creek Baptist Church.
She was preceded in death by her first husband, Oval Loftis; parents, Rocky and Stella Woodrum; daughter, Janet McClure; brothers, Boyd, Dee, Dolly and Hassel Woodrum; and sisters, Marlene Miller, Zella McCallister and Ruby Cummings.
Judith is survived by her husband of 15 years, Robert; children, Loretta (Charlie) Taylor, Gail (Ronnie) Thompson and Stacy (Pam) Loftis; son-in-law, Pastor Dwight McClure; stepchildren, Cindy (Dave) Swan, Isalene (Jerry) Runion and Robert (Jessie) Pauley, Jr;  brother, John (Margaret) Woodrum; sister, Chrstine Wilson; 5 grandchildren, Leslie Matheny, Nancy Dunlap, Teresa Vickers, C.B. Bragg and Terry Thompson; 9 great grandchildren; and special friends, Hope and Buddy Coleman and Patricia Grass.
Service will be 2:00 p.m. Sunday, October 8, at Curry Funeral Home in Alum Creek with Pastors Dwight McClure, Frank Chapman and Craig Gillenwater officiating. Burial will follow in the Moore Cemetery, Sumerco. The family will receive friends Saturday from 6 – 8 p.m. at the funeral home.
In lieu of flowers, the family requests memorial contributions to HospiceCare, 1606 Kanawha Blvd., W., Charleston, WV 25387.