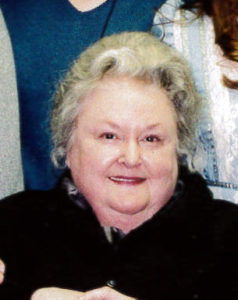 Vallie F. Holstein Turley, 84, of Charleston went home to be with the Lord on Sunday, October 1, 2017, after a long illness.
She is preceded in death by her husband, George, and son, Tim Turley and siblings, Jackie, Macel, Juanita, and Ramona.  She was the daughter of the late Isaac Jackson Holstein II and Edith Rathburn Holstein.
She was a former member of Brier Creek Baptist Church.  She was a retired teacher's aid, and worked in both Jackson and Kanawha Counties.  She was best known for her loving hospitality, generosity and kindness, and also for being a great cook.
She is survived by her daughter, Debbie (Jeff) Haught, and son, Curtis Turley, sisters, Connie Parsons and Zona Linville, brothers, Gene, Murl, Doug and Roger Holstein, and grandchildren, Brendan and Kate Rainey, Kevin and Richard Simmons, Jamie, Matt, Michael and Michelle Turley, and a large and loving extended family.
Service will be 2:00pm Thursday, October 5, 2017, at Curry Funeral Home, Alum Creek, with Pastor Tommy Roberts officiating.  Burial will follow at Graceland Memorial Park.  Visitation will be one hour prior to the service.Special thanks to the Marmet Genesis Healthcare for their loving care.