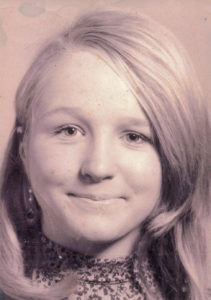 Wendelin "Wendy" Starr Worstell Bowen Kirk, 63, of South Charleston, went home to be with the Lord on Sunday, October 1, 2017, after a long courageous battle with cancer.
Wendy is preceded in death by her mommy, Norma Bowen, daddy, Eugene Worstell, three sisters, Mary Stanley, Carolyn Worstell, Lissa Eastwood, and daughter, Misti Ash.
Wendy was a great story teller and was loved by all who met her.  She will be greatly missed by her family and many friends.
She was the former owner/operator of Wendy's Place at Sumerco, and was a loving mother, grandmother and devoted sister.
Wendy is survived by her loving husband Randy Kirk, Sr., sons, Doug Bowen and Brandon (Lenora) Bowen, Randy (Cindy) Kirk II, daughter, Cortney Kirk, ten grandchildren, Lindsay Bowen, Brandon Martin, Tearanee Bowen, Paige and Destany Nelson, Chase Bowen, Candace and Kendall Kirk, Liam and Carol Ann Kirk.  She is also survived by her brother Scott (Laurie) Worstell, and sisters, Ann Hanshaw, Donah (Steve) Brown, Marcie (Doug) Gillispie, Karrie (Paul) Lovejoy, and Twylla (Cameron) Bays.  She was the "favorite" aunt to most of her many nieces and nephews.
Memorial Service will be Thursday, 2:00 pm, October 5, 2017 at the Alum Creek Independent Missionary Baptist Church with Pastor Frank Chapman officiating. In lieu of flowers family request donations toward funeral services.