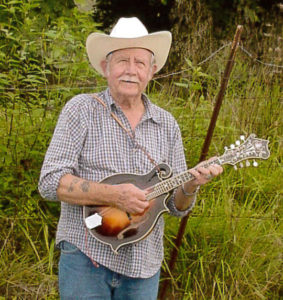 Donald Ray Sowards, Sr., 87, of Charleston received his wings at home on Friday, January 26, 2018 while surrounded by family. He was born on December 4, 1930 to the late Beulah Mae Salmons and Holbert Aulden Sowards.
He is preceded in death by his wife of 60 years and the love of his life, Wilma Pauley Sowards; son, Donald "Donnie" Sowards, Jr.; grandson, Zachary Alan Sowards; brother, Rodney A. Sowards; and sisters, Anna Lou Shamblin and Patty Jo Holstein.
Don loved his family and was a wonderful son, brother, husband, father, grandfather, great grandfather and uncle.
He had many interests, he was an oil painter, arrowhead hunter and gun maker. Don was an avid songwriter, singer and musician. He loved bluegrass music and was an innovator, making bluegrass music popular in WV. He assisted countless musicians in writing songs and playing different instruments. He learned to play multiple instruments at an early age, although, the mandolin was his favorite. He could play it like no other. Don formed The Laurel Mountain Boys Bluegrass Band. His son, Mark, played the banjo along with him as the band traveled all over WV, Ohio, Kentucky and Virginia in the 70's, 80's, and the 90's. He had a beautiful Tenor voice and sang Lead on multiple albums the band recorded.
Don loved his country and was a proud United States Marine Veteran. Serving during the Korean War, wounded 3 separate times, and achieving 3 Purple Hearts.
He retired from CSX Railroad in 1996 with 30+ years service.
Don leaves behind son, Mark Sowards (Lesa); granddaughter, Kyla Fields (Jeremy); grandson, Donald "D.R." Sowards, III; great granddaughters, Chloe and Alara Bailey, Heidi Sowards and Audree Sowards; brother, Ronald Sowards; sister, Wilma Hailey; and many nieces, nephews, friends and neighbors.
A celebration of Don's life will be held at 1:00 p.m. Tuesday, January 30, 2018 at Curry Funeral Home in Alum Creek with Pastor Al Mendez officiating. Burial will follow at Graceland Memorial Park in South Charleston.
The family will receive friends one hour prior to the service at the funeral home.
In lieu of flowers, the family would appreciate memorial donations be made to HospiceCare, 1606 Kanawha Blvd., W., Charleston, WV 25387-2536.
The Sowards family would like to thank a very special angel, she is the most compassionate and caring nurse we've ever met, Kim Miller of Hospice. This angel went above and beyond the call of duty to care for Don and his family.