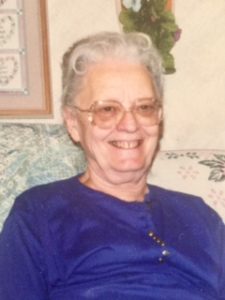 Mary Ann Scott, 90, of Alum Creek, went to be with the Lord at home Sunday, May 28, 2017 surrounded by her family.
She was preceded in death by her husband, Cecil Ray Scott, daughter, Nona Faye Gonterman,
She was a former employee of St. Francis Hospital, a former member of New Life Ministries in Dunbar and currently attended McCorkle Free Will Baptist Church.
Mary is survived by her daughter, Patricia (Meddie Ray) Dunlap, sons, Ron (Delilah) Scott and Wayne (Sandra) Scott, 11 grandchildren, 19 great grandchildren and 1 great-great granddaughter.
Service will be 3:00 p.m. Thursday, June 1st, at McCorkle Free Will Baptist Church, with Pastor Isaiah Hatfield officiating. Burial will follow in the Scott Family Cemetery Alum Creek.
Family and friends will gather one hour prior to the service Thursday at the church.
In lieu of flowers the family request donations be made to Hospicecare 1606 Kanawha Blvd., W. Charleston, WV 25387-2536