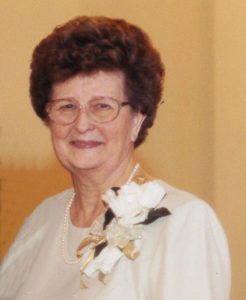 Anitra Jean Kinder Veres, 84 of St. Albans, was born April 8, 1933 in Seth and departed this life on April 24, 2017 from a sudden illness.
She is the daughter of the late Winford Jackson and Ardith Marie Egnor Kinder and was also preceded in death by her sister, Mildred "Miggy" Kinder.
Anitra was a graduate of Sherman High School Class of 1951 and has faithfully served on the Reunion Committee for many years. She was employed by The Diamond Department Store and later worked at Jay Instrument Company.
She was a member of Healing Stream Baptist Church at Seth and later attended Highlawn Baptist Church in St. Albans.
Anitra is survived by her husband, Louis Veres of 65 years, son Dr. Philip "Gary" Veres and wife, Brandie of St. Albans, grandson Micah Veres and wife, Julia of St. Albans, sisters, Naomi Sebok of Seth and Wanda Veres of Seth and numerous nieces, nephews and friends.
Many thanks to the caring staff at Thomas Memorial Critical Care Unit especially Nurses Delana and Jennifer and Doctors Wade, Hess, Takubo and Rashid for all their love, kindness and care that they gave her and the family during this difficult time.
Funeral service will be at 12:00 p.m. Friday, April 28, at Highlawn Baptist Church, 2304 Jefferson Ave., St. Albans with the Rev. David Smith officiating. Burial will follow in Donel C. Kinnard Memorial State Veterans Cemetery in Dunbar. Friends may call one hour prior to the service at the church.
In lieu of flowers, donations may be made to the Shriners Hospital for Children, 2900 Rocky Point Dr., Tampa, FL 33607.