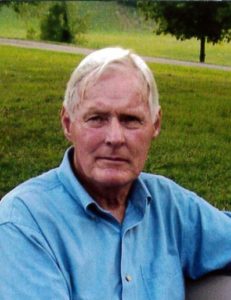 Paul L. Graley, 79, of Sod, West Virginia, died at home Wednesday, November 30, 2016, after a long illness.  He was a beloved husband, father, friend, and neighbor.
A 1955 graduate of Duval High School, he served in the U. S. Army and was stationed at Ft. Lawton U. S. Army base in Seattle, Washington, from Sept. 1962 to Sept. 1964 , where he lived as a newlywed with his wife.
Upon his return from Washington, he and his wife built a house in Sod.  He worked through Local No. 625 Plumbers and Pipefitters, where he was a member 51 years, and was employed by West Virginia Heating and Plumbing in Charleston until his retirement in 1999.
He was a member of Cobbs Creek Missionary Baptist Church in Sod.
He is preceded in death by his father Okey A. and mother Dessie (Paul) Graley, of Sod.
Paul is survived by his beloved wife of 54 years, Joyce D. (Masker), Sod; daughter Lisa Graley, Lafayette, Louisiana; son Michael Graley, Sod; his border collie Nellie, and a host of relatives and friends.
The family would like to thank Michael's  employer West Virginia Heating and Plumbing for allowing him time to help Joyce care for Paul during a two-year convalesence and decline, as well as Lisa's friends and colleagues who provided support at the University of Louisiana at Lafayette so she could travel to help in her father's care.
The family would like to thank Hospice workers, Melanie Martin, Libby Smith, Sallie Starkey, and Sharon Madden for his most recent care; as well as Amedysis physical therapist Tiffany Wilson who helped him walk again after a three-month hospitalization.
If donations are considered, the family would like to encourage support to HospiceCare, 1606 Kanawha Blvd. W., Charleston, WV  25387-2536.
Service will be 1:00 p.m. Saturday, December 3, 2016 at Curry Funeral Home in Alum Creek with Pastors Dr. Phil Suiter and Clyde Gwin officiating.  Burial will follow at Lively Cemetery in Sod.  The family will receive friends 1 hour prior to the service.