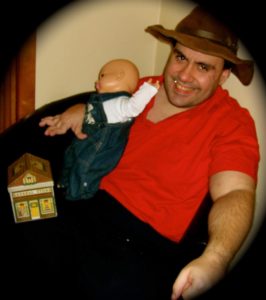 Russell Lee McCallister
It is with great sadness to report that Russell Lee McCallister, 40,  of Statesville, N. C., formerly of Alum Creek,  past away on October 26, 2016  at 11:00 a.m. at  Wake Forest Baptist Hospital, after suffering at least two aspirated pneumonias and sepsis. His admitting diagnosis was a severe CVA. Remembering his wonderful and gentle soul will forever remain in our hearts. May he rest in peace! A good heart has stopped beating, a good soul ascended to heaven. He will be missed.
He was preceded in death by his dad,  Billie Gene McCallister and brothers, Benjamin and Paul.
Russell is survived by his mother, Virginia McCallister; sisters, Belinda Fox, Pamela McMillion, Dreama Lenn and Sarah Golden; and several and nieces and nephews.
Service will be 2:00 p.m. Saturday, November 5, 2016 at the Crooked Creek Church of God with Pastor Mark Thaxton officiating.  Burial will follow at the  McCallister Family Cemetery in Alum Creek.    The family will receive friends 2 hours prior to the service at the church.