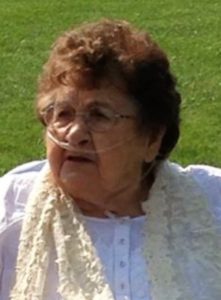 Olivene (Brownie) Chandler, 94, of Ripley, WV, was lifted by angels Tuesday, June 28, 2016 with her family by her side.
She was born December 29, 1921 in Left Fork, Lincoln County, WV.  She was predeceased by her husband of 62 years, George, Jr.; parents, Hansford "Hank" and Nannie Hager Linville; and sister, Marigold Atkins.
Olivene was a graduate of Marshall University and taught school for 30 years in Lincoln, Roane and Jackson County.  She loved children and many have told the family over the years she was their favorite teacher.
She always had a smile and loved to joke and tell stories of her childhood and years of experiences in life.  It was a joy to sit and listen to her tales and laughter.  She loved reading, working puzzles, playing Yahtzee and most of all spending time with family.
Olivene had many caretakers in her later years of life and truly loved each as family.  We are very grateful for their love and assistance.
She loved music and singing.  She and her husband, George, sang in a gospel quartet in their early years of marriage, along with her father and uncle; and she always enjoyed singing with her daughter, Sharon.
Olivene's gentle soul, kindness and unconditional love will be missed by her family and friends.  She was a member of The Church of Christ and had a very strong faith.
She is survived by her son, Rodney Hale of Alum Creek; daughter, Sharon Chandler and Jim Nielsen of Ripley; former daughter-in-law, Judy Hale of Winfield; former son-in-law, Keddy Williamson of Bradenton, FL; grandchildren, Lee Hale and Leah Nicole Hale of Alum Creek; great grandchildren, Jake, Lainey and Lilly all of Alum Creek; and her beloved puppy dog, Mickey.
Service will be 11:00 a.m. Friday, July 1, 2016 at Curry Funeral Home, Alum Creek with Minister Jordan Barr officiating.  She will be laid to rest at Orchard Hills Memory Gardens in Sumerco, Lincoln County, WV.  The family will receive friends one hour prior to the service at the funeral home.
In lieu of flowers, the family requests memorial contributions be made to the Union Mission Ministries, Inc., P. O. Box 112, Charleston, WV  25321-9982 for the flood victims of West Virginia, or the charity of your choice.