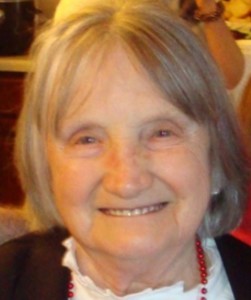 Elma Wanda Baire, formerly of Alum Creek, passed away Monday May 30, 2016 with her children by her side. She battled Alzheimers for more than 10 years. She was a survivor, born March 25, 1931 as a 2 lb preemie. She had other medical obstacles that others could or would never have been able to overcome. She was a strong woman to the end.
She is survived by her children Brenda (Lenzy) Meickles, Michael (Pattie) Baire, Susan (Tim) Atkins, Sherry (Greg) Blake and Patti (Brad) Rice. She also had 2 other children, who greeted her when she entered Heaven, Debra Renay and Randall Gene.  She is also survived by 12 grandchildren and 23 great grandchildren and another one due in August. She had a host of friends from Brounland where she resided the majority of her life, her beloved church, Hopewell Baptist in Alum Creek, her two most recent residences-Regency Place in Scott Depot and Teays Valley Assisted Living in Hurricane. She was preceded in death by her husband, Hillard Baire, mother, Wilmoth Harless and 5 brothers, Bruce, Leighton, Milton, Omar and Jimmy.
Foremost, Mom loved the Lord and her children of who she was proud. She never failed to tell people of Jesus and His love. She reminded people that Jesus is the way, the only way to Heaven. She quoted Bible verses and sang the blessed hymns of the faith with her beautiful alto voice. She enjoyed doing Bible Studies through the mail and was so proud when she would receive the certificates of excellence in the mail. She left this world with many coming to see her in her last days and telling her of her part in their choosing Jesus over the world. She was very wealthy in her knowledge of the Word and the souls who will someday join her in Heaven.
Special thanks to her caregivers at Teays Valley Assisted Living. They were all great and we never had to worry about her getting plenty of love and care in our absence. There were some super special ones, Josh Arnold and Tara Bailey, who lit up Mom's world when they came near her. Also, thank you isn't enough for the staff of Hospice West, with whom Mom spent her last 3 ½ weeks of life.  Their compassion, care, concern, even down to the gentle turning of her small frail body never ceased to amaze her family.
In lieu of flowers, the family suggests donations be made in her memory to Gideon's International, In Memory of Elma Baire, 99 Barat Lane, Hurricane, WV  25526 to further the gospel through the written Word or Hospice Hubbard House, 1606 Kanawha Blvd W., Charleston, WV  25387, in her memory.
Services will be at Curry Funeral home, 2097 Childress Road, Alum Creek is serving our family. Visitation is 6-8 Wednesday and Service is at 11 am on Thursday. Preachers who are serving are her grandson Jeremy Atkins and son-in-law, Greg Blake. She loved her preacher boys.