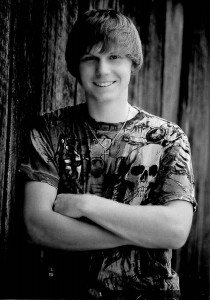 John Tristan Schmidt
Tristan died Friday, April 29, 2016 as the result of a motorcycle-vehicle accident Thursday, April 28, 2016  on Route 21 near Given, WV.
Tristan was an accomplished motocross enthusiast winning many local and regional competitions and had qualified for a national championship race at the Amateur National Motocross Championship at Loretta Lynn's in Hurricane Mills, Tennessee.
He was a student at WVU Parkersburg extension and was pursuing a degree in the medical field.  He was employed at The Community Fitness Center in Ripley, WV, and was a member of Young Life Maranatha Fellowship in St. Albans, WV.
He was predeceased by his sister, Kathryn Elizabeth Schmidt, grandmother, Betty Roberts  and great grandmother, Marie Whitlock Bell.
Tristan is survived by his father, John H. Schmidt (Joyce Wingo);  mother, Mary Alice Schmidt; sister, Rachel and stepsister, Mandy (Dominick) Pellegrin; Kevin Hemsworth, who was like a brother;  grandfather, Marvin (Rosemary) Roberts; uncle, Mark Roberts and his daughter, Maria Ann Roberts; and many aunts, uncles and cousins.
Service will be 2:00 p.m. Tuesday, May 3, 2016 at Maranatha Fellowship, 2910 Kanawha Terrace, St. Albans, WV with Pastors Jamie Wright, Terry Hogue and Richard Myers officiating.  Burial will follow at Graceland Memorial Park in South Charleston.  The family will receive friends 2 hours prior to the service at the church.
The family wishes to thank the emergency services in Jackson County,  the Jackson General Hospital and wishes to particularly thank the entire trauma service teams at CAMC General Division under the direction of  Dr. Miguel Matos.
A heartfelt thank you goes out to close family and friends, Tim and Melinda Whitlock, Mary Gomez, Larry Womack and all of Tristan's special group of friends for their love and support.
In lieu of flowers, the family suggests donations to the Kathryn and Tristan Memorial Fund at the CAMC Foundation.