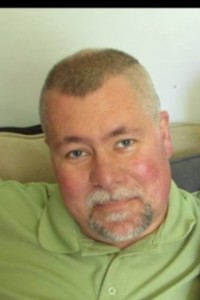 Christopher David Callison, 44, of Griffithsville, WV, went home to be with the Lord after a long illness on Sunday, November 29, 2015.
Chris was born in Charleston, WV on April 26, 1971, was a graduate of Dupont High School and attended Southern WV Community Technical College. He was a dedicated worker, family provider, and skilled journeyman electrician.
He attended McCorkle Free Will Baptist Church, loved God, and enjoyed reading the Bible.
He was an avid hunter and accomplished bow shooter.  Chris was a loving Christian, husband, father, son and brother who impacted many lives with his faith, strength and love.
He is preceded in death by paternal grandparents Jack and Evelyn Callison and maternal grandparents Brady and Julia Bowe.
He is survived by his wife of 21 years;  Karen; daughters, Christina and Jessica Callison; parents, Reverend David and Shirley Callison of Griffithsville; sisters, Kym Barnett (husband Mark) of North Carolina and Terri Collins (husband Jeff) of Pennsylvania; nephews, Mark Anthony and Jordan Barnette, Zachary and Logan Collins; nieces, Lyndsi Weber, Kelsie and Brianna Boyd; great nieces, Bella and Julianna; great nephews, Hayden and Kaden; father-in-law, Dennis (Bucky) Hodge; mother-in-law, Geraldine Boyd; brother-in-law, Greg Boyd (wife Kim); and his beloved dog Clyde.
Services will be 1:00pm on Thursday, December 3rd, at Curry Funeral Home Chapel, 2097 Childress Road, Alum Creek with Pastor Jody Pistore officiating.  Burial will follow at Kanawha Valley Memorial Gardens, Glasgow.  Family and friends will gather from 6:00 – 8:00 PM on Wednesday, Dec. 2nd at the funeral home.
The family would like to extend thanks to Melaine Martin for the wonderful love and support given to Chris and family.  In lieu of flowers, contributions may be made to Kanawha Hospice, 1606 Kanawha Blvd., W., Charleston, WV 25387.