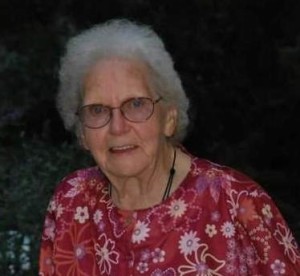 Sylvia Jane McCormick Watts, 94, of Sumerco, passed peacefully from this life on Tuesday, July 21,2015 at Hubbard Hospice West in South Charleston.  She was a loving wife, mother, grandmother, great grandmother and sister.
Sylvia was preceded in death by her husband, Gerald; parents, Maywood and Edith McCormick; sisters, Goldie Vanzant, Geneva Woodall and Glada Edwards; and brothers, Roy, Clifford, Marion, Desker, Ohley and Archie McCormick.
She is survived by her children and their spouses, Connie (Dan) Dooley of Sumerco, Louis (Teresa) Watts of Sumerco and Gary Watts of Alum Creek; by her grandchildren and their spouses, Danny (Ligeia) Dooley of Griffithsville, Megan (Thomas) Hanson of Sumerco, Joseph (Amie) Watts of Alum Creek, Luke (Sarah) Dooley of Sellersburg, IN, and Sarah (Keith) Cole of St. Albans; by great grandchildren, Jace and Levi Watts, Kristopher and Jacob Hanson and Cooper Dooley; by her sister, Judith Vickers of Kernersville, NC; and by many nieces and nephews.
Sylvia was a faithful member of the Alum Creek Church of Christ.  She was a nurturer of many, a humble and quiet servant.
Friends may visit the family on Thursday from 6 to 8 p.m. at the funeral home.  Funeral services will be conducted at 1:00 p.m. Friday July 24, 2015 at Curry Funeral Home in Alum Creek with Minister Richard Runyan officiating.  Burial will be in the Watts Family Cemetery at Sumerco.
In lieu of flowers, you may make a donation in her name to HospiceCare, 1606 Kanawha Blvd. W., Charleston, WV  25387-2536 or to Latin American Mission, PO Box 2330, Valdosta, GA  31604-2330.