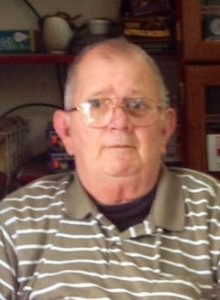 Roger K. Whitten, 68, of Woodville, went home to be with the Lord on June 27, 2015, with his precious son Joey and his loving mother Hazel holding his hands.  Roger is preceded in death by his wife of 25 years, Loretta, his father Kenneth, his brother Barry, his sister Sharon Baisden, his nephew Kenny, and an infant brother.
Left to mourn his loss are his son Joey (Courtney) Whitten of Alkol; his precious grandchildren Weston, Cierra, Maddy Jo and Mason; his mother Hazel Whitten of Woodville, brothers Donald (Charlotte) Whitten and Ronald (Katherine)Whitten of Griffithsville; and sister-in-law Chiquita Whitten of Woodville.  He is also survived by many nieces, nephews, aunts, uncles, and church family.
Roger was co-owner of Whitten's Feed and Seed and was a member of Sycamore Grove Baptist Church and was a member of the Alkol Lions Club for years and a 1966 graduate of Duval High School.
A special thanks to Sycamore Grove, Woodville, and Spurlocksville churches; CAMC, St. Mary's, and Hillcrest Rehab for their special care, and for the prayers from all the Christian families.  Roger always loved to be around people and kept a smile on his face.  He will be missed by many.
Services will be officiated by K.D. Bragg, Oshel Bell and Darrell Searls.  Friends may visit on Tuesday from 6:00 – 8:00pm at Curry Funeral Home, 2097 Childress Road, Alum Creek with funeral services on Wednesday, July 1st at 2:00pm at Curry Funeral Home Chapel.  Burial will follow at Orchard Hills Memory Gardens, Yawkey.
Pallbearers will be Wayne Broughton, Mickey Elkins, Wade and Michael Whitten, Carson McComas and Weston Meadows.