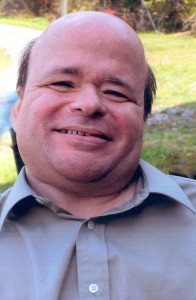 Richard Dwayne Dunlap, 43, of Sod went home to be with the Lord Tuesday, April 28, 2015 at CAMC General Hospital after a short illness.
He was preceded in death by his grandparents, James and Phyllis McCallister, Billy R. Dunlap and Homer Torman.
Richard was a 1991 graduate of Duval High School.  He loved attending church and  became a member of Elizabeth Baptist Church at the age of  six.  Richard loved people, gospel music and never met a stranger.  He always had a smile, a hug and a handshake for everyone he met and was a special blessing to all who knew him.
He is survived by his loving parents, Rick and Judy Dunlap; sister, Marketta (Joey) Collins; brother, Shawn (Andrea) Dunlap; grandmother, Thelma Torman; nephews and nieces, Adam, Nick, Audra, Kate, Micah, Chloe and Aiden, whom Richard loved dearly; and  along with a host of other family and friends.
Funeral service will be 1:00 p.m. Friday, May 1, at Curry Funeral Home in Alum Creek, with Pastor Homer Hensley, Mark Ruby and Jody Pauley officiating.  Burial will follow at Samson Cemetery, Garretts Bend.   The family will receive friends from 6 to 8 p.m. Thursday at the funeral home.
The family is deeply grateful to the doctors and nurses at CAMC General STICU for their wonderful love and care; and also to our church family and friends for their love and support during this time.