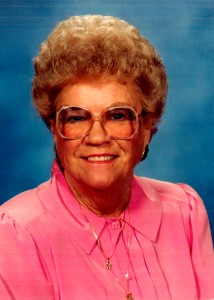 Betty Ross Saul McComas of Alum Creek, WV passed away Monday, March 30, 2015 at Candlelight Cottage, St. Albans, WV, after  a long illness.  Betty retired from the Lincoln County Board of Education after serving 43 years as a teacher and administrator.  She served her last 22 years as Principal of Griffithsville Elementary.
She was a past member of the Phythian Sisters Eastern Star, the RHO Chapter of Delta Kappa Gamma Honorary Teachers Society and Alpha Delta Pi Sorority. She was a member of the St. Timothy Lutheran Church, The National Education Association and a life-time member of The West Virginia Teachers Association.    Mrs. McComas received her AB Degree from Morris Harvey College (now University of Charleston) and Masters Degree in Supervision and Administration from Marshall University.  She was a faithful member of the Thomas Memorial Auxiliary as a volunteer since her retirement.
She was preceded in death by her father Robert Ross, Sr., and mother and step-father William & Della Rymer, brother Robert Ross, Jr., and brother and sister-in-law William Ray & Pauline Rymer and Betty's late husbands Dorsey D. Saul and Hal S. McComas, Jr.
Survivors include her son David (Diana) Saul of Charleston; daughter Nancy (Larry) Pauley of Sod; brother Jimmy (Anna Gae) Rymer of Yawkey; sister-in-law Lucille Ross of Spring Grove, PA; Granddaughters, Lindsey (Ryan) Welch of Dunbar, Tia Saul of Plano, TX; Grandsons, Craig (Jennifer) Pauley of Sandy Ridge, NC, Bruce (Karrah) Pauley of South Charleston; Great-Granddaughters: Chasity (Codey) Cromer, Isabella Pauley & Genevieve Welch, Great-Grandsons Riley Pauley & Augustin Welch, along with several nieces and nephews.
Service will be 1:00pm Friday April 3rd with Pastors Oshel Bell and Frank Chapman officiating at Curry Funeral Home, 2097 Childress Road, Alum Creek, WV. Burial will follow at Orchard Hills Memory Gardens, Yawkey.  Visitation will be from 6:00 – 8:00pm on Thursday, April 2nd.
The family would like to thank Candlelight Cottage and Lauren Robinson for taking such good care of her these last few years.  In lieu of flowers, donations may be sent to Hospice Care, 1606 Kanawha Blvd., W., Charleston, WV 25387-2536.