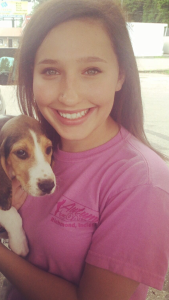 God blessed this world and made life sweeter on March 11, 1998, when He blessed this earth with a beautiful bright eyed baby girl, named Olivia Marie McCormick.
On Sunday, November 23, 2014 her life ended with a terrible tragedy on Heizer Creek in Putnam County.  Her life was filled with loving family, caring friends and lots of sweet memories!  She loved the outdoors, fishing, playing with her kitten, Kiki, concerts and most of all spending time with her family and friends.
She was in her junior year at LCHS and on the honor roll; she had a life full of dreams and aspirations for the future.  Olivia spent her life lifting others up and because of her sweet heart and contagious smile her spirit will forever live on.  She LOVED God, CHERISHED her mom, LOOKED UP TO her daddy, ADORED her brothers, and THOUGHT THE WORLD of her stepdad.  Now, they, along with many others, are facing the most difficult time of their lives.
Olivia was preceded in death by her brother, Christopher Todd McCormick; grandmothers, Gladys McCormick and Debra Rowe.
She is survived by her mother and stepdad, Melanie and John Burchell; dad, Leonard McCormick; twin brother, Cole McCormick and brothers, Christian and Mark McCormick; sister, Karrah Coy; step brother, Wade Burchell; step sister, Makenzie Burchell; grandfather, David L. Rowe; uncle, Davy L. Rowe II; aunts, Breanna Rowe, Sharon Marker and Teresa McCallister; and a host of cousins, nieces and nephews who will greatly miss her.
Funeral service will be 3:00 pm Friday, November 28, at Curry Funeral Home, 2097 Childress Road, Alum Creek with Pastor Richard McCallister officiating.  Burial will follow at Orchard Hills Memory Gardens, Yawkey.  The family will receive friends from 12 to 3 pm at the funeral home.
The family would like to extend a special thank you to all who have reached out with financial help, food, visits and calls of loving concern.