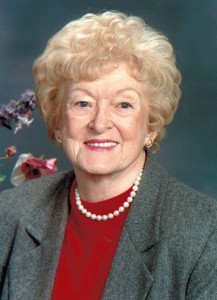 Jane Eloise Clark, 92, of Akron, Ohio died Monday, January 27, 2014 in her residence after a brief illness.
She was a retired school teacher having taught home economics with Litchfield Schools. Jane was a Baptist by faith. She enjoyed water skiing well into her 70's and also enjoyed reading, sewing, cooking and spending time with her family.
She was born February 4, 1921 in Griffithsville, WV, the daughter of the late D. W. and Eallie Bell (Carnes) Oxley. Her husband, William Clark, Jr., preceded her in death on August 9, 2007. In addition to her parents and husband, she was preceded in death by a daughter, Kathryn Jane Lebold Ortopan and a brother, Ronald Oxley.
She is survived by a daughter, Marjorie (Steven) Marcum of Melbourne Beach, FL; 2 grandchildren, Jennifer (Mark) Lebold Stevens of Bellville and Martha (Raime) Fronstine of British Columbia, Canada; 2 great grandchildren, Claudia and Audrey Stevens; a sister-in-law, Bea Oxley of Akron and her former son-in-law, Richard Lebold of Bolivar.
Local funeral services will be held Thursday, January 30, 2014 at 6:00 pm in the Lebold-Smith Funeral Home, 248 Park Ave., Bolivar, OH with Rev. Ken Hutchinson officiating. Friends may call from 4 to 6 pm at the funeral home.
A second service will be held 2:00 PM Saturday, February 1, 2014 at the Curry Funeral Home, 2097 Childress Road, Alum Creek, WV, with Rev. Jackie Clark officiating. The family will receive friends from 1 PM until time of service. Burial will follow in Orchard Hills Memory Gardens, Yawkey. For those unable to attend please visit the funeral homes web site to share a memory and sign the guest register at www.smithfuneral.com and www.curryfuneralhome.org