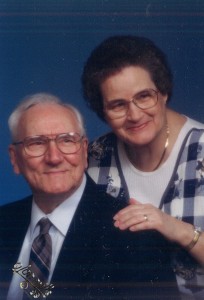 "Together Again"
Charles Mathew Mallory, 90, of Alkol, WV went home to be with the Lord on Wednesday, August 28, 2013 after a short illness. He was born April 17, 1923, son of the late James Theodore and Malinda Alice Miller Mallory. He was also preceded in death by his beloved wife Beulah Hazel Mallory on January 19, 2013, his brothers, Arnold, Londus, Paul, Stanford, Cline and William Mallory; sisters, Thelma Stowers, Ethel Adkins, Runa Schoolcraft and Virginia Berry.
He is survived by his precious sister Martha Mallory Meadows, 91, of Weirton, WV. Surviving children are Ted (Cathy) Mallory of Brook Park, Ohio, David (Patty) Mallory of Alkol, WV and Angie (Randy) Walls of Morrisvale, WV. His eight grandchildren and 16 great grandchildren, Aaron (Darla) Mallory and their children Owen, Rebekah and Aidan; Jason (Tina) Mallory and their children, Josh, Ben, Charlie, and Matthew; Eric (Kelly) Mallory and their children Devin and Austin, Christie (Dave) Dieckman and their children David and Caleb all of Ohio and D.J. (Sandy) Mallory and their children Ethan and Katie of Alkol, WV; Sarah Callahan and her children, Ian, Ella and Eli of Yawkey; Amanda (Roger) Hager of Alum Creek, WV, and Matthew Walls of Morrisvale, WV; two sisters-in-law, Leoma Shafer of Pinch, WV, and Annise Spears of Catlettsburg, KY, and many beloved nieces and nephews.
He was a member of Sycamore Grove Missionary Baptist Church at Alkol, a retired carpenter, a member of one of the first graduating classes of Duval High School and a World War II Navy veteran.
Services will be at 1:00pm on Saturday, August 31, 2013 at Curry Funeral Home, 2097 Childress Road, Alum Creek, with Pastors Darrell Searls and Jimmy Lawrence officiating. Burial will follow at Orchard Hills Memorial Gardens at Yawkey with military graveside rites by the Alum Creek VFW Post 4768. Family and friends will gather for visitation from 6:00 – 8:00pm on Friday, August 30, 2013, at the funeral home.