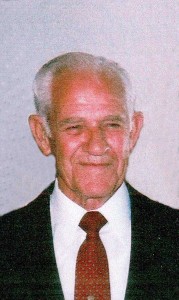 Hubert Leo Moore, 86, of Alum Creek formerly of Ripley, WV, was called home by the Lord after a short illness on Saturday, July 27, 2013.
He retired from Kaiser Aluminum at Ravenswood after 33 years of service. He served in the U. S. Marines during WWII and the Korean War, where he was highly decorated, being wounded twice and receiving the purple heart.
He was preceded in death by his first wife, Betty Lou Ellis Moore.
He is survived by his wife, Barbara; daughters, Connie Lowther (Bob) and Debbie Blasingim (Tom); son, Curtis Moore (Kris); step-sons, Russell Wright (Kathryn), Bill Wright (Karen) and Randy Wright (Kristy); step-daughters, Brenda Anderson (Glen "Bub") and Cindy Lindgren (Bobby); 7 grandchildren, 3 great grandchildren, 9 step-grandchildren, 7 step-great grandchildren and 2 step-great great grandchildren.
Funeral service will be 10:00am Tuesday, July 30th at Curry Funeral Home, 2097 Childress Road, Alum Creek with Pastor Venny VanHoose officiating followed by Military Rites conducted by the Herbert J. Thomas Memorial Detachment 947 Marine Corps League. Graveside service will follow at 1:00 pm at Jackson County Memorial Gardens, Cottageville, WV. The family will receive friends from 6 to 8 pm Monday at the funeral home.