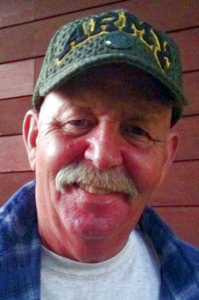 Jerry Wayne Hudson, 62, of South Charleston died Sunday April 28, 2013 at home after a long illness.
He served in the U. S. Army and was a retired painter with W. Q. Watters.  Jerry was an avid outdoorsman who loved hunting and fishing.
He is survived by his wife of thirteen years, Teresa; son, Douglas Haden Hudson; mother, Betty Mae Hudson of Titusville, FL; and brothers, Joe of Cross Lanes and Jeff of Kissimmee, FL.
A memorial service will be held at a later day.  In lieu of flowers, memorial contributions may be made to HospiceCare, 1606 Kanawha Blvd. W, Charleston, WV 25387-2536.