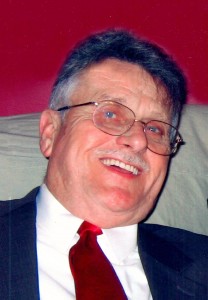 Gillis Edward Oxley, 74, of Dunbar went to be with the Lord Monday, December 30, 2013 at home.
He was a member of Plumbers and Pipefitters Local 625; a member of the Dunbar First Baptist Church; and formerly a barber in Hamlin, WV.
Edward was preceded in death by his parents, Lema and Glady Oxley, son, Michael and sister, Virginia Pauley.
He is survived by his wife of 51 years, Doris; son, Lanny and wife, Stephanie Oxley; granddaughter, Jessica and husband, Steven Baker; niece, Katherine (Frank) Kilburn; brother-in-law, Virgil Pauley and many other family and friends who will miss him including his very special buddy, Harley.
A gathering of family and friends will be Friday, January 3, 2014 from 4 to 6 pm at Curry Funeral Home, 2097 Childress Road, Alum Creek.
In lieu of flowers, the family requests contributions be made to the Dunbar First Baptist Church, 311- 16th Street, Dunbar, WV 25064 in memory of Edward Oxley.