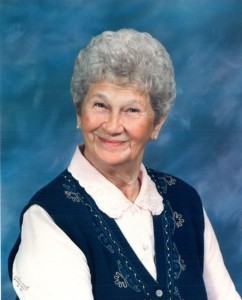 Opal Faye Barker
Our beloved Memaw, Opal Barker, 93 of St. Albans, went to be with Jesus on Saturday, October 20, 2012.
Born July 10, 1919, she was one of eleven children.  Her loving husband of 65 years, Howard C. Barker, preceded her in death as well as her stepchildren Betty Hornoff and Harvey Barker.
Opal was a loving mother, grandmother and friend to many.  She loved baking goodies and making crafts for family and friends.  She operated her own beauty shop in St. Albans for 22 years where  she made many dear friends. She loved her church family and served as deaconess at The Crossing, where she was a faithful member.  She loved helping with the children at the church.
She is survived by her children, Rev. Bob (Peggy) Barker of Kinston, NC; Marcella "Peggy" (Ross) Spurlock of St. Albans; Patti (Al) Ruebush of Hurricane and Ruth B. Byrnside of St. Albans; 22 grandchildren, 41 great grandchildren and 13 great great grandchildren.
A celebration of Opal's life will be held 2:00 pm Monday, October 22nd,  at The Crossing, 2031 Harrison Avenue, St. Albans  with Pastor's Stan Smith and Allen Stewart officiating.  Burial will follow in Cunningham Memorial Park, St. Albans.  Friends will gather one hour prior to the service.
In lieu of flowers contributions may be made to The Crossing at 2031 Harrison Ave. St. Albans, WV 25177.