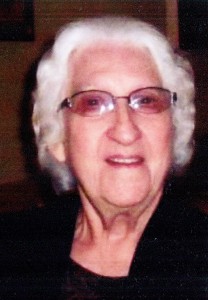 On Thursday, September 27, 2012 God called his beloved  angel, Gladys Pauley McCormick, 88, of Yawkey,  home to live in His Kingdom of heaven for eternity.
She was a loving mother, grandmother and a natural nurturer to all who encountered her.  She was born on May 25, 1924, in Ivy Branch, WV to the late Thomas and Annie Pauley.
She was also preceded in death by her husband of 24 years, Bernard McCormick; one daughter and son-in-law, Loretta and Buddy Johnson; two grandchildren, Christopher "Todd" McCormick and Chadra Nicole Marker; two brothers, Lester and Hassell Pauley and two sisters, Sharon Pauley and Lula Roberts.
Gladys is survived by her children, Leonard McCormick of Yawkey; Sharon (Lindell) Marker of Sod and Teresa (Barry) McCallister of Yawkey; two sisters, Freda (Julian) Coon of Mansfield, OH and Nina Dunlap of Sumerco; two brothers, Junior (Shirley) Pauley of Sod and Ray (Faye) Pauley of Alum Creek; grandchildren,   Mark McCormick, Terri (Ebby) Talebi, Kendra Marker, Karrah (Joey) Coy, Levi (Rebecka) Johnston, Dustin (Brianna) Johnston, and Cole, Olivia and Christian McCormick; great grandchildren, Heather, Michael, Madison, Codye, Kayla, Kaden, Markahala, Heith, Trinity, Gabe, Samuel and Lanie.   One great great grandchild, Baby McCormick due to arrive in December.
Also a host of nieces, nephews, cousins and many friends, the closest being her dog and best friend, "Sable".
Funeral service will be 2:00 PM Monday, October 1, 2012 at Curry Funeral Home, 2097 Childress Road, Alum Creek, Pastor Richard McCallister officiating.  Burial will follow in Orchard Hills Memory Gardens, Yawkey.  Friends will gather one hour prior to the service.