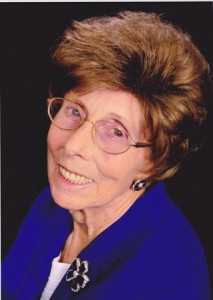 Evelyn McCormick was born in Ivy Branch, Lincoln County on October 28, 1921. She was a life long resident of McCorkle. She has been a member of the McCorkle Free Will Baptist Church for as long as anyone living can remember. Evelyn was a professional home maker  all of her life. She passed away in Florida on Wednesday July 25, 2012 three months before her 91st birthday.
She was preceded in death by her husband John D. McCormick, her daughter Brenda Joyce McCormick Hunter, her parents Van Buren and Lola (Dunlap) Pauley, her sister Junaita Huffman,  and her brother Billy Pauley.
She is survived by her two children; Delilah and husband Ron Scott and J.D. and his wife Pam McCormick, two brothers; Junior and (Kat) Pauley and Pete and (Nancy) Pauley, six grandchildren; Greta McHugh, Deah Calloway, Shara Bevin, Myron Scott, Shani Brinkman, Brandon McCormick, 16 great grandchildren; Nathanael, Hannah, Levi and Raechel Brinkman, Cheyenne, Courtney, Cameron and Caera McCormick, Grace and Olivia McHugh, Jonathan Hutchinson, Bradley, Brandon and Braden Bevin, Evan and Peirson Scott, many nieces and nephews, including Lisa Lewis, Van Pauley, Kathy Buckland and Phyllis Dunlap, many fellow church members and friends including her friends and pastor from First Baptist Church in Cedar Key, Florida.
Mother so eloquently wrote her own funeral sermon as she went along. Written on the simple pages of a pure and gentle Christian life.
Visitation will be at the McCorkle Free Will Baptist Church, McCorkle, on Wednesday August 1, 2012 from 6 to 7 pm. Graveside service will follow at 7:30 pm at the Pine Grove Baptist Church Cemetery in McCorkle.