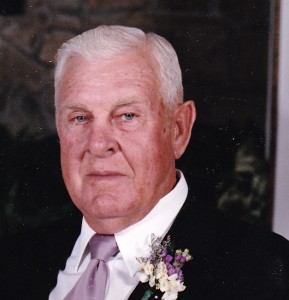 Rev. Ezra  Harold  Graley, Jr.,  83, of St. Albans, born May 6, 1929, son of Ezra and Sadie (Elshire) Graley, went home to be with his Lord on Saturday, December 29, 2012, at CAMC-Memorial Division after a long illness.
He served in the U.S. Army from May 1951 until September 1953.  Pastored for 50 years, serving at Summit Ridge Church of God, Amandaville and Lincoln Drive Church of God.  He was the owner of Graley Roofing for 35 years,
He is survived by his wife of 25 years, Iwana Marie Graley, brother, William (Carol) Graley, Sister, Jenny Brown and Phyllis (George) Kinzer; sons, Michael (Connie) Graley, Greg (Joy) Graley and Tim (Beverly) Graley; grandchildren, Aaron, Josh, Britni, Joel, Alexander, Bryce, Ashton, Elysa, RuthAnn; great grandchildren, Kailey, Kaegan, Colton, Brennan, Haley, Kaeden, Richae, and Shai; and stepchildren, Nancy (John) James, Janet (Steve) Samples, and Don Hill; stepgrandchildren, Shawn (Jodi) Peterson, Brad Peterson, Stephen Peterson, Hannah Pettit, Jody Fisher, Jonathan Fisher,  Jeremy Fisher and Rachel Samples; step great grandchildren, Savannah, Star, Maryssa, Lyanna, Tanner, Koen, Cameron, Sophia, Landon, Lync and Layton.
Ezra loved the Lord, his country and his family.  He witnessed to people every day no matter where he was.  He loved to help people.  He fought a good fight especially since September.  He was in CAMC, OSU and St. Mary's and CAMC where he passed away December 29, 2012.  Thank you to all the doctors and nurses that were so kind to him.
Services will be 12:00 noon on Wednesday, January 2, 2013, at Curry Funeral Home Chapel, 2097 Childress Road, Alum Creek, WV, with Pastor Jackie Miller officiating.  Burial will follow at the Donel C. Kinnard Memorial State Veterans Cemetery, Dunbar,  with military rites.
Visitation will be from 6:00 –  8:00pm on Tuesday, January 1st at the funeral home.