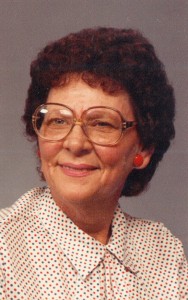 Dorothy Lee "Puddle" Elkins, of Hernshaw, went home to the Lord, Saturday, October 29, 2011 at home surrounded by her family.
 She was born November 23, 1931 to the late Hartsel and Edith Chrislip was also preceded in death by her husband Emil, daughters Patty Elkins and Debbie Elkins Frazier.
 She was a homemaker, was of the Baptist faith, she loved camping, attending gospel sings in Mt. Nebo, sewing, cooking and spending time with her grandchildren and great-grandchildren.
 She is survived by her daughter Anita (Doug) Kirk, her grandchildren Erin Williams and Deanna Boothe and her great-grandchildren, Brooke Boothe, Paul Richard and Dylan Williams and two nieces Kathy Romeo and Elizabeth Arose.
 Service will be 1:00 pm Tuesday at Curry Funeral Home 2097 Childress Road, Alum Creek with Pastor Greg Johnson officiating. Burial will be at Madison Memory Gardens Madison. Friends will gather one hour prior to the service at the funeral home.