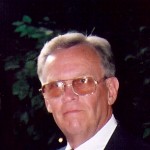 Tom D. Fulks, 70, of Alum Creek passed away Friday, July 29, 2011 at
CAMC Memorial Division after a long illness.
He was a Baptist. He retired after 44 years of devoted service as a inventory control
analyst with McJunkin Corp.   He served as Past President of the Antique Car Club of
America and current President of the Capitol City F.O.P.A. No. 4 and currently served
as a Sargent in the Lincoln County Sheriffs Department Auxiliary.
He was preceded in death by his parents, Nathaniel "Nat" and Helen Fulks and sister,
Natalie Fulks.   He is survived by his loving wife of 47 years, Kay  Son;Mark and his wife, Amy, grandchildren; Noah & Kelsi, brother-in-law Jim (Kathy)
Arnold,nieces; Beth and Brandi,nephews; Jimmy and David, many aunts, uncles and cousins.
At Tom's request, a  private service will be held for close friends and family.   Curry Funeral Home, Alum Creek is in care of arrangements.