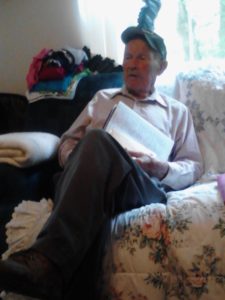 William Rutherford, 95, of Fayetteville, W. Va., went home Thursday, November 23, 2017.
He was the son of the late Fleming Alderson and Roxy Vickers Rutherford; also preceded in death by his beloved granddaughter, Licia Lynn Rutherford.
William was a veteran of the United States Air Force serving during WWII.
He is survived by his daughter, Marilyn Rutherford Pauley; son, William Alderson (Robin) Rutherford; grandchildren, Donald Pauley, William Joe Ballew and Lydia Rutherford; great grandchildren, Tirany, Elijah, Emma, Alyvia, Bella, Jase, Angelynn and Layla.
A graveside service will be held at 1:00 p.m. Monday, November 27, at Graceland Memorial Park with Pastor Bub Anderson officiating. Military Graveside Honors will be conducted by the Alum Creek VFW Post 4768.